Our passion is crafting elegant outdoor spaces. In New Orleans, we are blessed with great weather all year long. We love getting outside and providing the most relaxing, comfortable, yet luxurious outdoor furniture New Orleans! We know that your outdoor furniture can totally change the look of your backyard, which is why we represent furniture brands that are enduring and elegant.
We work with you to create a custom furniture layout that works with your lifestyle and home. The perfect furniture and outdoor lighting is critical to finishing the look of your backyard. We work with the best suppliers like Ebel Incorporated, Brown Jordan, Hanamint, and Elegant Earth.
Our lighting services can make the biggest impact on your backyard lifestyle. We proudly offer high-quality copper fixtures by St. James Lighting. From gas lamps to electric lights, custom work, and by design our outdoor lighting selection is both beautiful and practical.
Let's chat about your perfect backyard lifestyle. Stop by and visit our showroom at 7211 Regent Street in Lakeview near the New Orleans marinas.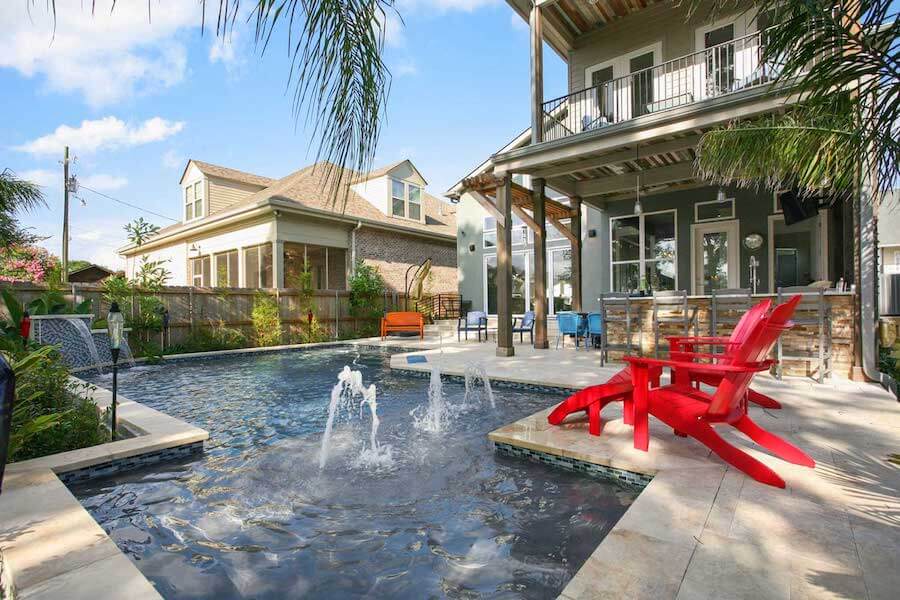 Frequently Asked Questions About Lighting And Outdoor Furniture New Orleans
Do I need to be a custom pool client to buy outdoor furniture or lighting?
No, you can work with us to get a custom outdoor space without being a pool client. You can always work with us on a custom pool in the future.
Where can I see your outdoor furniture?
Come visit us in our showroom at 7211 Regent Street in Lakeview near the New Orleans marinas. You can take a seat and really get a feel for how our furniture will work for you.
Is outdoor lighting safe?
Yes! All of our outdoor spaces are created individually to be the right fit for your space aesthetically and for safety. We trust the quality of St. James Lighting for your home.
What is the process, start to finish?
We always start with a one on one consultation to see your backyard and understand your wants and needs. Then we take measurements of your space and reference photographs to ensure the perfect fit. We then supply you with a lighting plan and product list to properly plan your exterior lighting.
---
Time to relax! Are you ready?