Completely Custom Backyard Living spaces
We're more than a pool and outdoor kitchen company, we're capable of crafting entire outdoor living areas, complete with kitchens, and lounge spaces, outfitted with the best appliances, and custom furniture.
We know how to create an outdoor space that will last. We use the finest appliances and fixtures from Fire Magic, DCS, Bull and Lynx. We also offer first-rate furniture to make your backyard space beautiful and functional. If you need help deciding on what will fit and where we offer free outdoor space planning from our experienced staff designers.
We work with you to create a complete backyard living space that works with your lifestyle and home. From design to installation and furniture delivery we're with you every step of the way to make sure you get the complete outdoor living space of your dreams.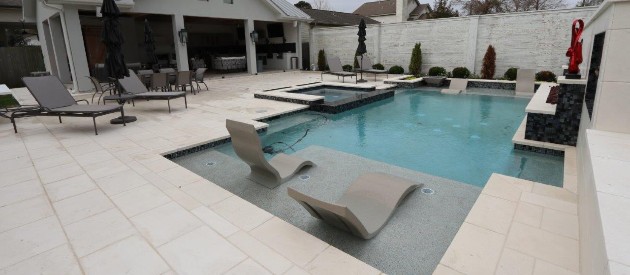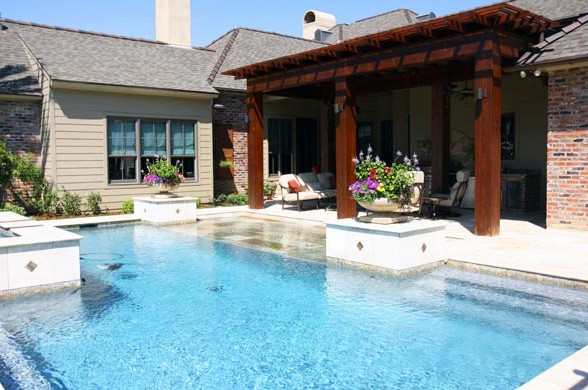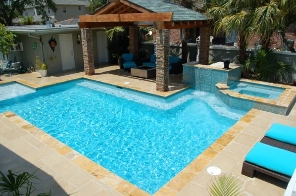 Design
The first step of your backyard transform is the design process. During this stage, we'll work with you to uncover what your wants & wishes are, and come up with a design that works for your backyard.

Build
Once the design has been finalized, we'll get to work on the construction phase. Within 3-6 weeks, your backyard will be transformed into the agreed-upon design.

Furnish
Once the construction has been completed, it's time to furnish your new space so you can start relaxing and enjoying time in your backyard. 
Completely, custom. Every step of the way.
Our 25 years of experience in the luxury design industry means we're one of the most experienced design and build companies in the New Orleans Metro area. Our experienced designers will learn about your lifestyle and stylistic preferences and present a design that is a testament to both.
During the construction phase, things will get messy, but our experienced construction crews will turn your conceptual design and turn it into reality.
To complete the transformation, our retail showroom in Lakeview has 2 floors of high-end designer furniture plus outdoor kitchen appliances and grills. We believe that your space deserves the best the industry has to offer, that's why we only carry the best. If you're interested, you can work with one of our experienced exterior designers to customize everything about your new outdoor space, including the fabric of the furniture you choose. To finalize the transformation, we can deliver and set-up the furniture for you, just like it was designed.
Total Backyard Design
Our experienced pool and exterior designers will work with you to design a custom backyard that is a testament to your taste, complements your home, and enhances your lifestyle.
What Our Clients Say
"My family and I could not be more pleased with our brand new pool. From the start, owner Pepper Tregre demonstrated an eye for design, functionality and excellent use-of-space that exceeded our expectations. How our pool interacted with our new home was important to us. The 3-D images provided a clear idea of what the final product would look like. As, first-time pool owners, it was comforting to know, during every phase of the project, that we were working with a passionate, experienced, hands-on, honest small business owner who took pride in building a beautiful pool that his customers would love. "
– Gene Sausse
Ready To Transform Your Backyard?
 
Our site visits provide a chance to meet, get to your know wants and wishes, and begin to understand the scope of your project. We'll meet at your convenience and gather all the information we need to put together a design for your project, free of charge!