Backyard Living At It's Finest
At Backyard Living, we realize that your pool or spa is one of the most important purchases you'll make for your home. Not only does it bring value to your property, but it benefits your lifestyle. We'll help you custom design the perfect pool or spa to suit your style, meet your needs, and complement your backyard and home. We specialize in the design and installation of in-ground pools, spas, and outdoor kitchen areas. We also have extensive experience in pool renovations and modernization. To complement your custom pool, we also sell high quality pool furniture for the finishing touch.
With over twenty years in the industry we have become the designer and builder of choice for luxury pools, spas and outdoor spaces in New Orleans. We specialize in pools for small spaces as well as large scale pools. Our company offers the latest in automatic pool cleaners, computer operation, easy to maintain water filtration, and salt system pools. We pride ourselves on making it easier than ever to maintain your pool giving you more time to enjoy and swim!
Meet Our Owner
Pepper Tregre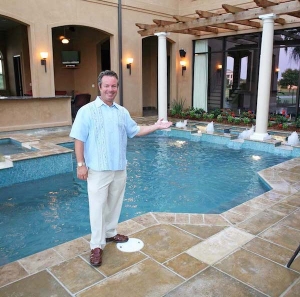 Pepper, the founder and president of Backyard Living, has been installing custom pools and spas for over 20 years in the New Orleans metropolitan area. He knows all the potential issues that can happen with a pool in New Orleans, and knows how to build you a backyard living space that will last. By utilizing the finest possible materials, equipment, and personnel in the industry, Backyard Living will give you superior products and exceptional service. Pepper works with you, one on one to craft for you the perfect pool.
You have our personal guarantee. On every single project, we strive hard to surpass our clients expectations and dreams.
Dreaming of your new pool? Go ahead…